Glad shows all over Ukraine, as it is impossible to work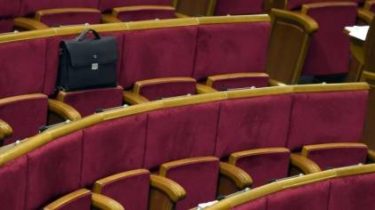 After a month of idleness, which MPs themselves gave, earned Parliament.
However, to show the legislators can't. 250 deputies, for example, signed in the absence of any claims to Viktor Yanukovych and his clan. These people call themselves patriots, are photographed in embroidered and blame European politicians who think about lifting sanctions against Russia. It is stated in the story TSN.Week.
In 2014, we chose such deputies that in 2017 can not and do not want to vote for sanctions against Yanukovych clan. There in the sanctions list of 21 figure. After the failure of the attorney General's investigation of the crimes of these personal sanctions would at least complicate their business in Ukraine. Thursday, may 18, the speaker Andriy Parubiy tried three times to collect votes "for". However, it was only 202 votes instead of the required 226. Say this is due to the presence in the list of oligarch Dmitry Firtash.
See also:
Rada has terminated the powers of Deputy Artemenko
In the MPs didn't even want to put in the agenda of medical reform. Thanks to her, the money will disappear in envelopes. It says that the state taxes would fully pay for primary care, will increase the salaries of doctors, will the shadow of these "charitable contributions" and black accounts, which make the main doctors millionaires. Then each operation will clear the invoice, the part paid by the state, the part of the patient. But managed to collect 162 votes. And all because of the fact that "black cash" with those donations would cease to lift up and enrich the people in the room lying. This reform was promised by the President, but his own faction almost completely ignored the words of their leader.
This week the deputies have once again had to kill the anti-corruption Bureau. The idea of the bill 6220 looked so idiotic that the Parliament planned to collect for him as many as 260 votes. Lawmakers wanted to make it so that if one office closes criminal case, then the second is also obliged to close it. It works all the way: for example, the investigation in relation to Roman Nasirov, who leads NABOO, connects the Prosecutor General's office and SBU. Creates a clone of the criminal case, which is then closed with lightning speed – and the NABOO should also close its own investigation. This fantastic bill is not put on the agenda of Parliament only after protests and violent pressure of foreign structures.
Comments
comments