Shkiryak supported the acclaimed Avakov on the post Seduce with the Council "does not show ass to the camera"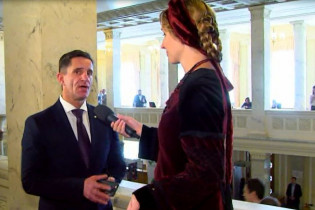 Zorian Shkiryak not remained aloof from the scandalous antics Vitaly Seduce with naked buttocks in the live broadcast of "Eurovision-2017", says "social life".
The fact of the antics of prankster loudly discussed in the Network, however, an even greater criticism of the comments of the Minister of internal Affairs of Ukraine Arsen Avakov in the article with photos of Vitaly after the arrest.
See also:
The organizers of "Eurovision" focus on security shows and looking for the culprit in the admission of Seduce on stage
"Meantime, this disgrace of the country, will be able to exercise their "hobby" in a prison cell of temporary detention center. However, to show the backside of the local residents, enjoying their "hobby" – I wouldn't advise it", – these words angered the public.
See also:
Ruslana about naked buttocks of Prancer Seduce: there Are men's fifth point is much more effective
In conversation with Katya Osadchaya Advisor Avakov Zoryan Shkiryak, supported him.
"I support it, given the emotional, of course, such trick is the "Eurovision" in Ukraine has caused me disgust. When it borders on permissiveness and outright idiocy, shall we say, difficult to determine it is logical", – Shkiryak commented on the situation with the detention of Seduce.
See also:
The Prosecutor explained why Prancer Seduce released, not arrested
Their sensational physical shape and twine the Minister of internal Affairs is still retained, however, complains: time to exercise a little. To maintain skills Shkiryak limits itself in power.
See also:
"And then gets one ass." Poroshenko commented on the antics of prankster Seduce at Eurovision
Recall the capital , the court chose to rowdy Vitaly Seduce a measure of restraint. He's not allowed to leave the boundaries of Ukraine, and the next hearing in the case of Prancer will be held on the 12th of July. Now Vitaly recalled his peculiar selfie with the coach of "the Voice of the country-7" Jamala.
Comments
comments