Married MP Birch dot the "I" regarding the rumours about the affair with Sumar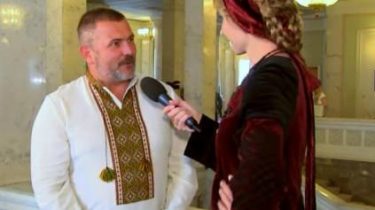 MP Yuri Bereza has a large collection of embroidered, proud, says "social life".
National shirts he had more than 50, and puts it in their day shirts and holiday cover.
The question Osadchaya about the likelihood of the novel of Yury with a colleague from the "popular Front" Victoria syumar he responded with denial.
See also:
Victoria syumar quarreled with her husband over his political career
"We always Teteruk Andrew, unfortunately (laughs politician). Victoria is a good friend, after 40 years, very rarely make new friends. Many rumors spread by the Russian media, the social networks, I don't pay attention to it. On the contrary, around beautiful women. You know, I'd like to tell you about our affair, because you are charming and beautiful, and that's fine. In the circle of charming women man blossoms " – summed up the MP.
See also:
"Popular front" requires a report on the investigation of corruption – Sumar
We will remind, Hope Savchenko is not confessed, is now in a relationship. Instead, she stressed that it is only suitable men. According to the politician, in the Parliament there are men, because there are "only people's deputies".
Comments
comments