Azarov recalled Hitler and commented on a possible in absentia conviction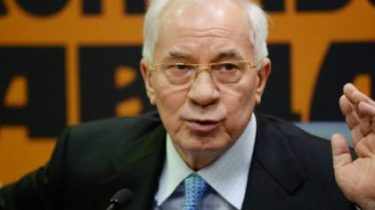 Former Prime Minister of Ukraine Mykola Azarov reacted emotionally to the petition of GPU in the Pechersk court about the resolution of the correspondence investigation against him.
The fugitive like a mantra reiterated that the current Ukrainian government got their positions "by the coup", and its decision were "legally void".
See also:
Azarov and Klyuev on Russian television pleaded guilty for the events of 2014 year
"They don't say anything about that in the next two years a special Committee of Interpol has considered all their treatment on the announcement me in the international wanted list and was denied a few weeks ago, acknowledged that the Kiev regime is committing against me is political persecution. The current government maintains the country atmosphere of terror," wrote Azarov on his page in Facebook.
Commented on ex-Prime Minister and resonant decision to block Russian websites and social networks in Ukraine.
"People passed all bounds, thought to ban the social network. Thought to make a law by which the Church falls under the control of the state – these crooks and gangsters. I think even Hitler could not to think of this", he concluded.
We will remind, on may 22, Prosecutor General of Ukraine transferred to the Pechersk district court a motion to allow the absentee to start an investigation against former Prime Minister Mykola Azarov and former Minister of energy and coal industry Eduard Stavitsky.
Prosecutor General Yury Lutsenko has declared that does not exclude the announced suspicion of treason and attempting to change the territorial and state structure of the country Azarov.
Comments
comments