Lutsenko does not want to create an anti-corruption court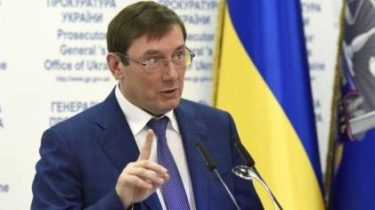 Prosecutor General Yury Lutsenko against the establishment of anti-corruption High court.
This is reported by Ukrainian news.
"Ukraine needs to create an anti-corruption chamber of judges who will handle cases of corruption of "A" category. Regardless of which authority will submit to the court an indictment, these cases, in my opinion, would be to consider the specialized chamber of judges", – he said.
Lutsenko claims that there is no need to create a separate anti-corruption court, since you can only create a specialized chamber of the court.
In his opinion, such a chamber can be created in six months.
See also:
In Ukraine started the anti-corruption program from the European Union
We will remind, Sytnik said about the dangers of creating an anti-corruption court. The creation of an anti-corruption court in Ukraine is under threat because politicians are not ready to support it. For jogos words, not ready in the Parliament to vote on whether to NABOO acquired autonomy in conducting covert investigations. Willingness to allow anti-corruption agencies to work at full, I'm sure Sytnik is the biggest challenge for the political elite. And it will be an indication if they are willing at all to implement their slogans of fighting corruption or not."
Comments
comments