The former owners of "PrivatBank" may appeal the decision to nationalize the media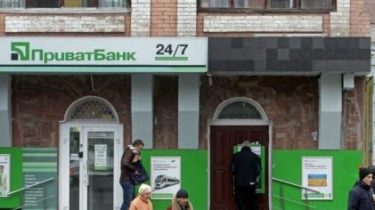 The former owners of"PrivatBank" may challenge in court the government's decision on nationalization of financial institutions.
This was the managing partner of the bar Association Suprema Lex Victor frost, who is an adviser to the bondholders "Private", the article reads on DT.UA.
See also:
Investigation, "Schema": before nationalization of "PrivatBank" for the firm-bubbles was derived 110 billion hryvnia
According to the Frost National Bank declared a significant number of loans "PrivatBank" to related parties, to date, has not found confirmation. It gives former owners of companies to appeal against the nationalization.
"The former owners of the Bank, there are grounds for challenging government's decision on nationalization of "PrivatBank", however, as far as I know, while it is not in their plans," – said the lawyer.
See also:
Kolomoisky: Billions of hryvnia from "PrivatBank" "disappeared" under the guidance Rozhkova
We will remind, on the nationalization of "PrivatBank" became known late in the evening of 18 December. On 21 December, the institution officially became a state property. The Ministry of Finance bought "PrivatBank" Deposit guarantee Fund of natural persons for a symbolic one hryvnia.
The transition period lasted for 72 hours. On December 19 the head of the NBU Valeria Gontareva said that "Privat" is classified as insolvent. According to her, the Bank's capital deficit was 116 billion UAH, and 97% of the corporate loan portfolio was distributed to companies related to shareholders. This "hole", the state plans to close the bond issue Treasury bonds.
Former top managers of the Bank refuted the claims of the NBU in the presence of holes 148 billion. "The Bank worked fine, and was able to work on. Mythical holes are all the result of the change in accounting policy of the national Bank, who stopped to take account of those liens, which we had and which were taken into account", – said the former Chairman of the Board of PrivatBank Alexander Dubilet.
Meanwhile, the first nationalization "PrivatBank" commented the former co-owner Igor Kolomoisky.
Comments
comments