The Minister of agrarian policy Kutovoy was going to retire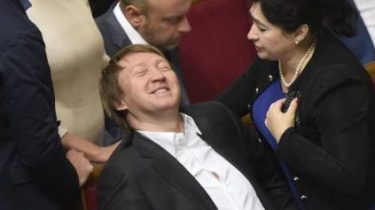 The Minister of agrarian policy and food Taras kutovyi was going to retire.
He reported about it in Facebook.
"The choice of a Minister's resignation is an absolutely normal process for any European country and traditional practices. Resign from a expressed gratitude for the trust in me to all farmers, MPs from the coalition and the faction of the PPO, the members of the agricultural Committee, President Petro Poroshenko, Prime Minister Vladimir Groisman, the group "Blow" Vitali Klitschko personally!", – he wrote.
He thanked the Prime Minister and government colleagues.
The Minister stressed that is now coming to the end of the 5 year of his work in the political field.
"Think you have enough knowledge, energy and strength to do for Ukraine and even more in the near future I plan to focus on attracting investments in the Ukrainian economy. Ask colleagues in Parliament to treat the statement with understanding and vote," he said.
See also:
The Minister's wife Kutova earns on investments and Omelyana – in the boutique sells designer clothing
We will remind, 14 APR 2016 Corner was appointed Minister of agriculture. From 2012 to 2014 he was the first Deputy head of the parliamentary Committee on agrarian policy and land relations, from 2014 to 2016, the Chairman of the same Committee.
Deputy of the Verkhovna Rada of the seventh and eighth convocations, elected in single-mandate electoral district №151 in Poltava region.
Comments
comments