The United States called the Holodomor in Ukraine as genocide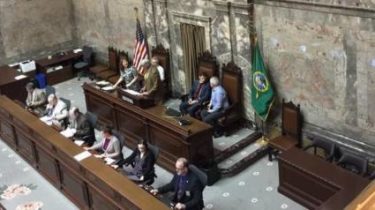 The Senate of the U.S. state of Washington adopted a resolution honoring the memory of victims of Holodomor in Ukraine of 1932-1933.
It is reported by the Ukrainian Embassy in the United States of America.
"The Holodomor was a genocide by Joseph Stalin and the Soviet regime against the Ukrainian people", – is spoken in the resolution.
The author of the resolution is Republican mark Miloscia. The Senate unanimously adopted this decision.
Ambassador of Ukraine to the United States Valeriy Chaly has announced that it has sent a letter of thanks to the Lieutenant-Governor of the state of Washington, the President of the Senate Sirus Habib.
We will remind, on March 3, the Parliament of Portugal recognized the Holodomor 1932-1933 genocide against the Ukrainian people. Adopted a document condemning the Holodomor in Ukraine of 1932-33, and it recognizes the genocide by the "totalitarian Communist regime of Stalin, which led to the deaths of about seven million of Ukrainian citizens".
Comments
comments