After Chubarov's refusal to testify in the case Chiygoza, the court can not conduct lawyer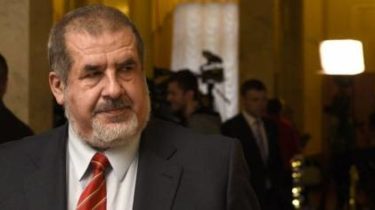 After the failure of "the court" invaders in the Crimea, to interrogate the head of the Mejlis Refat Chubarov 's case against his Deputy Akhtem chigusa, who is accused of organizing mass riots, the defense will find an alternative interrogation.
This was stated by the lawyer Nikolai Polozov, the TV channel "112 Ukraine".
"After it refused to interrogate Chubarov, the court can not hold" – he stressed.
According to Polozova, now the process continues, the defence presents evidence, listen to witnesses.
"We will make some alternative interrogation Refat Chubarov" he said.
Polozov also noted that the decision of the Tribunal banning Chubarov to testify in the case Chiygoza is political.
"The Russian government chose the lesser of two evils: to let Refat Chubarov, who was expelled from the Crimea, backward, or to discredit and not to interrogate the key witness in the "case Chiygoza". Was chosen the second option, because I realized that if in the Crimea will arrive Chubarov, a large number of Crimean Tatars, 50-100 thousand, then all these stories that in occupied Crimea Crimean Tatars live well with Russia, it will all go to pot" – he concluded.
We will remind, on the eve of the "trial" of the occupiers in Crimea refused to satisfy the petition of lawyers for permission to visit the head of the Mejlis Refat Chubarov to testify in the case of Akhtem chigusa.
Chiygoz was detained on 29 January 2015. He was charged with "organizing and participating in mass riots at the walls of the Crimean Parliament on 26 February 2014," five Crimean Tatars – Mustafa degermendzhi, Ali Asanov, Arsen Yunusov, Eskender Kantemirov and Eskender Amiraliev – participation in mass riots. They deny the charges against him.
In the Ministry of foreign Affairs of Ukraine consider the case Chiygoza a manifestation of political repression and the return of the Russian Federation to the courts of a sample of the era of Stalinism.
Amnesty International harshly reported on human rights in Crimea. In the annual report on compliance and violation of the human rights organization said on systematic repression, prohibition of Assembly and restrictions on the freedom of speech in Crimea.
Previously, the so-called court in occupied to the Crimea extended the arrest of the Deputy Chairman of the Majlis of Akhtem chigusa until 8 April 2017.
Comments
comments