Groisman commented on the resignation of the Minister of agriculture Kutova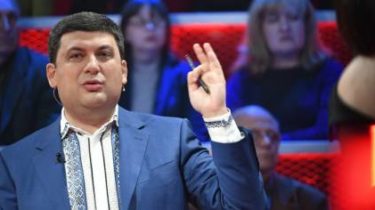 Prime Minister of Ukraine Volodymyr Groysman regrets the decision of the Minister of agrarian policy and food of Taras Kutovy to resign.
The Premier said during a government meeting, UNIAN reports.
Groisman added that it is ready to begin consultations with members of Parliament regarding the appointment of the new Minister of agrarian policy.
"Yesterday the Minister of agrarian policy and food of Ukraine Taras kutovyi took the decision to retire… I'm so sorry that it has taken such a decision, but I respect him," said the Prime Minister.
See also:
Kutovoy Minister resigned because of land reform and strained relations with the Prime Minister – media
We will remind, the Minister of agrarian policy and food Taras kutovyi was going to retire. He thanked the Prime Minister and my government colleagues. Kutovoi said that is now coming to the end of the 5 year of his work in the political field. According to him, in the near future he plans to focus on attracting investments in the Ukrainian economy. Corner asked his colleagues in Parliament to treat the statement with understanding and vote for her.
14 April 2016 Kutovoy was appointed Minister of agriculture. From 2012 to 2014 he was the first Deputy head of the parliamentary Committee on agrarian policy and land relations, from 2014 to 2016, the Chairman of the same Committee.
Deputy of the Verkhovna Rada of the seventh and eighth convocations, elected in single-mandate electoral district №151 in Poltava region.
Comments
comments