In summer Ukraine is preparing to close railway communication with Russia – Kommersant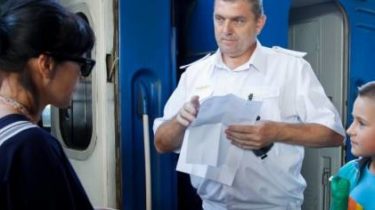 Railway communication between Ukraine and the Russian Federation to be suspended.
As writes the Russian newspaper "Kommersant" with reference to its sources in the Ukrainian government, we are talking about the termination of traffic from 1 July this year.
"Ukraine is preparing to discontinue railway passenger communication with Russia roughly from 1 July," — said the source.
The reason for a possible unilateral actions of "Russian Railways" (RZD) "to stop passenger transportation in Russia from the ATO and, in particular, from Donetsk, which violates the sovereignty and territorial integrity of Ukraine." In particular, from Donetsk in the Russian Taganrog runs the train, the ticket price — 17 rubles.
See also:
"Ukrzaliznytsia" will launch the train to the resort Zatoka and Karolino-Bugisu
In turn, in the "Ukrzaliznytsia" neither confirm nor deny the presence of the document: "there is No decision on this matter is currently pending." In the Railways said that he had not received from Ukraine any documents on the termination of passenger service to Russia.
In this case, as stating "Kommersant" the former Deputy Minister of transport of Ukraine Oleksandr Kava, the Ukrainian railwaymen record a decrease in passenger traffic between Ukraine and Russia more than 60% over the last year. At the moment it is nearly 2 million people a year.
See also:
"Ukrzaliznytsia" will not raise tariffs for passenger transportation
"It is very profitable for Ukraine transportation, because they are made from the trains of the Ukrainian formation. The price is four times higher than the domestic tariff. And even in spite of incomplete loading of trains, that service is best for "uz"," – says Kava.
Recall that in connection with introduction of sanctions against several Russian companies largest losses are such carriers as "SG-TRANS", "Neftetransservis", freight one, Federal freight company "Promtransinvest", First cargo company in Ukraine "Rail1520 Service", "agro", "Aston foods and food ingredients". For example, on the Ukrainian market accounts for around 5% of the total transport Federal freight company.
Earlier representatives of the party "people's front" announced the possible introduction of visa regime with Russia after liberalisation process with EU countries.
Comments
comments