Lutsenko reacted to the decision of the court on the "case of the ex-tax" with a sarcastic note in the social network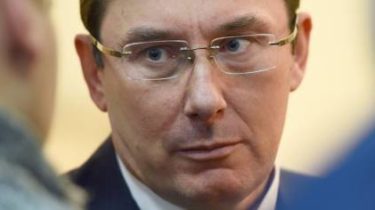 Prosecutor General Yury Lutsenko responded to the court's decision in the case of former tax, which the day before the Pechersky court has appointed a safety precaution.
"One more merciful decision, and I'll worry about the fire as the cave," wrote the attorney General in your Facebook.
Earlier, the Pechersk district court of Kyiv released on bail in the amount of 15 million hryvnia, the former head of the State tax administration in Luhansk region Alexander Antipov.
In turn, the former head of the State tax administration in Poltava region Vladimir ZADOROZHNY, detained during large-scale anti-corruption operation on may 24, was released into the wild. The Pechersky district court of Kiev decided to appoint ZADOROZHNY preventive measure not involving detention.
Two Kyiv tax officers, ex-Chairpersons of the regional offices of the tax Inspectorate, allowed out on bail of $ 1 million, and former head of the tax Podolsk district Alexey Yaroshenko, who is accused of cooperation and participation in schemes of Yanukovych, was released from the courtroom on personal recognizance without the bracelet.
Note that large-scale anti-corruption operation was conducted by the Prosecutor General and the interior Ministry. After the search was arrested 23 former high regional officials of the Ministry of income and fees from the Eastern and southern regions, as well as Kiev. On this worked together 1700 police officers and five prosecutors.
Comments
comments