Year the public Prosecutor: Lutsenko will talk about his work in the broadcast "Rights to Vlad,"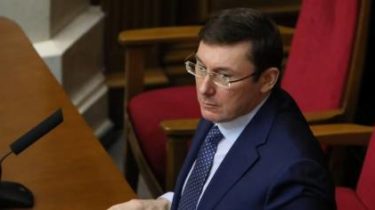 Today, 25 may, 22:00 Studio political talk show "Right to Vlad," on the channel "1+1" will visit the Prosecutor General of Ukraine Yuriy Lutsenko, who will provide answers to pressing issues that concern Ukrainians.
This week, Prosecutor General Yury Lutsenko reported in the Verkhovna Rada about the results of the first year of his tenure as head of the GPU. During this time the Ukrainian community has a lot of questions about the activities of the Department.
In particular, according to Lutsenko, the Prosecutor's office has made significant progress in the investigation of cases against former President Viktor Yanukovych and his entourage. In the Studio "Right on Vlad" the attorney General will tell you what news on this case appeared in the investigation.
Also Yury Lutsenko will tell you why now bail detained on Wednesday, senior tax officials since the presidency of Viktor Yanukovych, the damage to the Ukrainian budget of which is estimated at 96 million.
In addition, live "Rights to Vlad," will discuss how much was stolen by the previous government will be more money returned to the budget of Ukraine and will there be a cleansing of the ranks of the Prosecutor's office.
In the discussion of those topics will bring together experts Sergey Shcherbina, head of the Internet project Іnsider Catherine Pechenina, Director, chief editor of the analytical portal "Word and business", as well as journalist and chief editor of the Censor.NO Yuri Butusov.
Your questions the viewers may ask on the project's website http://pravonavladu.tsn.ua/. Watch the talk show "Right to Vlad," every Thursday at 22:00 on channel "1+1" and on the project website.
Comments
comments