Savchenko is targeting the post of President of Ukraine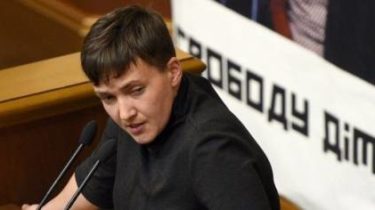 The people's Deputy Nadezhda Savchenko is going to run for President, but her political force will participate in the parliamentary elections.
She stated this in an interview with Polish newspaper Krytyka Polityczna.
"I'm ready to take responsibility for the country and to take part in the presidential elections. In addition, parliamentary elections will participate my political force", – said Savchenko.
At the same time the MP believes that the people support it, while commenting on the rating fall from 12% to 1-2%, said "don't know what space you got to those numbers".
"Measured, probably not my support, and television, the rhetoric of the President, Yulia Tymoshenko and other politicians, including European ones, who were talking about me. My character and I are two different things," she said, adding that checks their support on the street.
According to Savchenko, the fact that earlier it was for Ukrainians the hero, then – "agent of the Kremlin", "irrelevant", because "people didn't know her, but was the image that gave the Ukrainian and Russian propaganda."
"That's why in Ukraine about me, I have to say worse, and better in Russia", – said the MP.
We will remind, earlier Nadezhda Savchenko, excluded from IN "Batkivshchyna" for a mismatch of "principles and political beliefs, led the party "national Alliance of freedom and Ukrainian patriotism "Offensive", which was renamed the "Civil platform of Hope Savchenko".
Comments
comments