Klimkin will enter Makron "in the know" about the war in Ukraine and Russia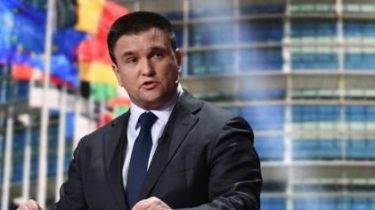 For future work, "Norman Quartet" you must enter in the team of the President of France Emanuela Rules, and then agree on a position regarding Russia's involvement.
This was stated by Minister of foreign Affairs of Ukraine Pavlo Klimkin, UNIAN news Agency reports.
"In the coming days there will be contacts with the team of Macron and of course the contacts in the trilateral format. I (new Minister of foreign Affairs of France Jean-Yves Le Drian on his appointment to the position – approx.ed.) of course, congratulated, but they say that in the coming days will be very detailed and substantive discussion on all issues. First, with regard to our cooperation in the framework of the "Norman format", but also other questions", – he stressed.
According to Klimkin, during a meeting with new French President it is planned to introduce them in that we were United and had a common position not only on a political level, but also at the level of detail."
The Minister also said that in the first place, to talk about security for the release of hostages.
"But talking about the logic of the road map. Once we're finished, we will move further", – he added, stressing that the meeting "Norman format" with the participation of Russia is first necessary to reconcile the positions of France and Germany.
Separately Klimkin said that Le Drian is "a person who understands Ukraine and has a special feeling, and knows what values."
"You know he was Minister of defence. This is the Minister who prevented the sale of "Mistral", – said the head of the Ukrainian foreign Ministry, noting that after the meeting with Le Drian will meet in a trilateral format with the participation of the foreign Minister of Germany Sigmar Gabriel.
Recall President of Ukraine Petro Poroshenko called the Macron on the eve of his meeting with Putin. The two leaders discussed the situation in the Donbass and Poroshenko, in particular, brought the facts of violation of Minsk agreements by Russia and supported militias. Poroshenko and macron called for the intensification of work in the "channel format". They also coordinated their positions before the meeting of the leaders of the countries "the Big Seven" in Italy.
Comments
comments