Der Spiegel wrote about the controversy Magdalena and Europeans through trade with Germany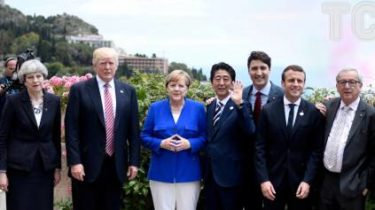 May 25 at a meeting with EU leaders in Brussels Donald trump Germany was subjected to harsh criticism.
This writes Peter Muller in the article "Germans are bad, very bad," published in the online edition of Der Spiegel.
During a meeting with EU leaders in Brussels, the President of the United States Donald trump is actively complained about the trade surplus of Germany. "The Germans are bad, very bad," said trump. "Look at the millions of cars they sell in the US. Awful. We can stop this," continued the President.
At the meeting, the head of the EU Commission Jean-Claude Juncker sided with the Germans and objected to Trump. Free trade benefits all, said the President of the Commission. Juncker tried to say this in a friendly tone, but remained adamant on this issue, said the participants.
During the meeting, trump met with President of the European Council Donald Tusk and European Commission President Jean-Claude Juncker, after about 45 minutes they were joined by other participants in the negotiations, in particular, the Chairman of Parliament Antonio Tajani and the chief EU diplomat Federica Mo.
See also:
Certainty in Ukraine and uncertainty in Russia: in Brussels, Tusk and Trump was not enough consent in assessments
According to reports, "Sueddeutshe Zeitung", the EU leaders were shocked by how little Americans know about trade policy. Apparently, the guests did not understand that the EU sign trade deals together. Therefore, the Advisor to trump on economy, Gary Cohn in the conversation said that the customs tariffs of the US and Germany differ from the tariffs the U.S. and Belgium.
For many years German exports exceed imports. Previously, trump has raised the issue of surplus in Germany, even before his inauguration, the President expressed the criticism in an interview with the newspaper "Bild". Even then, he was particularly concerned about German cars on the streets of new York. "I would have said BMW, if they will build a plant in Mexico and will want to sell cars in the US without tax is 35%, then they can forget about it," said trump. Since the threat of penalty taxes.
The new U.S. President considers the German surplus is unfair, because it corresponds to the trade deficit in other countries, at the same time, he primarily thinks about the United States. Through the trade surplus, the German government is under pressure within the EU. Recently Finance Minister Wolfgang schäuble (CDU) in an interview with Der Spiegel also said the surplus is too large.
In fact, the EU believed that, after numerous meetings of European heads of state with trump and attempts to explain international trade policies, it is now possible to move on. But apparently, the Europeans can forget about it.
Recall that the EU leaders gathered on may 25 at the summit to discuss the Ukrainian question, the threat from Russia and terrorism.
Comments
comments