Poroshenko urged the leaders of the G7 not to give Moscow the chance to continue aggression in Ukraine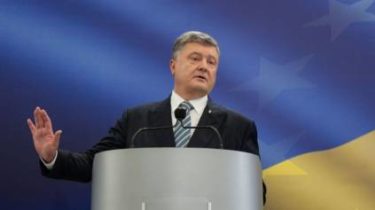 President Petro Poroshenko has urged the leaders of the "Big Seven" to remember history, to show wisdom and vision and not to give Moscow any chances to continue its aggressive policy towards Ukraine.
About this Poroshenko wrote in his column edition of Politico, reports his press-service.
"Today the leaders of the "Big Seven" are at the same table, where they will talk about the complex challenges of our world order. Selected for this meeting, the day could not be more symbolic for Ukraine", – stated in the article, Petro Poroshenko.
See also:
Merkel discussed with the trump of Ukraine and the Minsk agreement
According to the President, history teaches us that appeasement leads to more aggression and that only from a position of strength to defend sustainable peace and to restore security and stability.
"Today, the "Big Seven" club respectful of States and world leaders, of which Russia expelled with a shame – has an opportunity for a clear answer to the aggressor. The Kremlin does not wash away the blood on their hands and not to avoid responsibility for the theft of Crimea and the export of war in Donbass", – stressed the head of state.
Comments
comments