Became known the details of the convergence of high-speed tram derailed in Kiev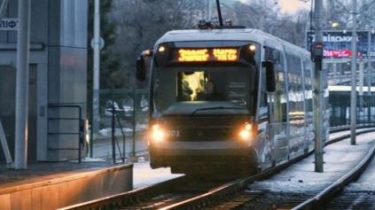 The movement of high-speed trams in Kiev on route 3 (Artem – Ring road), which was suspended because of the accident, was already restored.
This was reported in KP "Kyivpastrans", reports UNIAN.
It is noted that near the train station derailed a high-speed tram that was moving along this route.
According to the "Kyivpastrans" injured in the incident, the cause of the accident are being investigated.
The movement of trams have resumed at 9am.
See also:
In Kyiv the trolley ran over the man, moving in the direction of the Darnitsa area blocked
We will remind, in Kiev derailed light rail, which moved on a route No. 3 (St. Starovokzalna – St. Ring road). It is noted that during a turn from the station to the Starovokzalna street the street portion of the tram derailed. Now movement on a route of light rail No. 1 and No. 3 are suspended.
In addition, it is reported that near the scene of the incident having problems with another tram.
Comments
comments