Russian court demands from "Antonov" to pay the defense Ministry 180 million rubles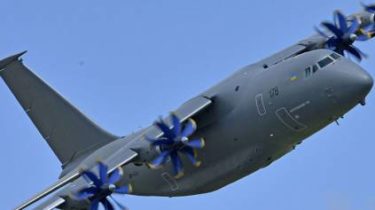 The arbitration court of the Moscow district upheld the decision on collecting from the Ukrainian enterprise "Antonov" more than 180 million rubles on the suit of the Ministry of defense of Russia.
This is reported by RIA Novosti.
In particular, the Ministry of defense of Russia in July 2015, has asked the court to recover Antonov's more than 357 million roubles of the penalty for the violation by the Respondent of terms of performance of the two phases of development works (ROC), under contract dated may 16, 1989, for development of aircraft An-70.
It is noted that the alleged "Antonov" had to perform two phases of work until 25 November 2012, however, as of September 20, 2016, as pointed out by the plaintiff, the customer was not delivered, the delay amounted to 1395 days.
According to the report, the defense Ministry of Ukraine in June 2014 was announced by the Russian Ministry on the completion of state joint tests of An-70 without the participation of specialists of the defense Ministry.
In response, the Russian defense Ministry said the Antonov concern, he believes the test aircraft has not begun, and the results obtained by the Ukrainian side, is not confirmed.
Earlier, the court of first instance satisfied the claim partially, considering that it is possible to reduce the penalty claimed 357 million rubles to 180 million rubles.
Recall that the plant "Antonov" demonstrated potroleum flight of the new an-70. In the description to the video States that "the an-70 belongs to a new generation of medium military transport aircraft short takeoff and landing". The report said that "this plane is capable of solving qualitatively new tasks not available old VTS".
Positive characteristics of the aircraft, and confirmed the whole program of State tests, although there is the an-70 waiting for new experiments, as stated by the press service of the aircraft factory.
Interestingly, the an-70 can carry the totality of the aeromobile military and engineering vehicles of almost all armies in the world.
Comments
comments