Groysman disclosed the details of future land reform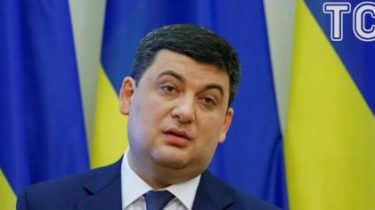 Sale of land in Ukraine should be resolved only to natural persons-Ukrainians and in the amount of not more than 200 hectares of land per person. And on the first stage of land reform , foreigners and legal entities should not have the right to buy land.
This was stated by Prime Minister of Ukraine Volodymyr Groysman at work discussing the upcoming land reform, which was attended by MPs, leaders of professional associations and unions, experts of the agricultural market and farmers.
According to Groisman, the opening of a land market will stimulate economic development, boost the development of farming, the creation of industrial infrastructure in the countryside, and in the medium term will allow you to change the type from the raw material economy to economy value added.
At the same time the head of government noted that the process should be gradual and take into account all possible risks. That's why he statement that the earth could only buy physical persons-Ukrainians.
The participants of the meeting agreed that the issue is not in the plane of the lifting or maintaining the moratorium on the sale of land. According to them, the question is how to determine what model of land turnover would be the best for Ukraine, and then we can begin a discussion of its implementation.
See also:
Kutovoy Minister resigned because of land reform and strained relations with the Prime Minister – media
In the end, the participants agreed to create an interdepartmental working group, which will include members of government, MPs, representatives of farmers. In the near future the working group will present the concept of the first stage of land reform. In addition, Groisman instructed to prepare a draft government decree which would allow further abuse of the land market now.
Recall that on 6 October 2016 the Verkhovna Rada the eighth time since 1996, extended the moratorium on selling agricultural land in Ukraine. According to the calculations of economists, due to the lack of the land market every year, Ukraine's economy loses $ 3.3 billion. That is, the moratorium's total losses since 2004, according to estimates of the IMF Group was $ 43 billion.
Comments
comments