The United States are changing course on Ukraine: will the state Department to establish a diplomatic channel with Surkov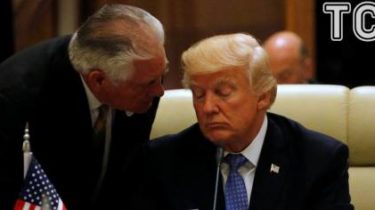 During the March meeting in the oval office, the President of the United States , Donald trump told German Chancellor Angela Merkel that the responsibility for the crisis in Ukraine is in Europe and that the United States would not actively participate in its resolution. But two months later, the administration of trump's changing course and plans to significantly intervene in the Ukrainian question.
About it writes The Washington Post.
See also:
Merkel discussed with the trump of Ukraine and the Minsk agreement
In the article the publication States that the Secretary of state Rex Tillerson is going to restart version of the peace negotiations with Russia, what exactly did the Obama administration last year. The White house hopes that the new circumstances and personalities can be the key to better results – such opinion was expressed by the officials and external experts.
Foreign Minister of Germany, Sigmar Gabriel after a meeting with Tillerson on may 17 noted that politics trump noticeable changes.
"We appreciate the fact that the new administration will be more active in Ukraine. At first they seemed not so interested in this issue. There have been many changes," said Gabriel.
"We know that Russia will move only when the Americans are on Board and will press them to do more for the ceasefire and withdrawal of heavy weapons from the region. The Russians know that Russia's behavior in Ukraine is a precondition for [the United States] in cooperation with Russia in other industries," he added.
The policy shifts trump, the newspaper writes, became apparent after may 10, when he held talks with Minister of foreign Affairs of Russia Sergey Lavrov and "less-noticed meeting" with Minister of foreign Affairs of Ukraine Pavel Klimkin.
See also:
Trump said that no plans to soften sanctions against Russia and unable to tighten.
Tillerson is now going to involve a special envoy at the State Department, which will deal with the Ukrainian issue. This new diplomat needs to breathe new life into U.S.-Russian diplomatic channel with Vladislav Surkov, the Kremlin's "gray cardinal".
Officials also noted that the President of Russia Vladimir Putin can no longer count on a more loyal to the Russian Federation administration of the United States as he did in that year. As the governments of Germany and France will not become more friendly towards Russia.
Earlier in mass media appeared information that in the draft Federal budget of the United States in the 2018 financial year provided assistance to Ukraine in different programs totaling about $ 350 million. In particular, we are talking about the provision of military vehicles and equipment, other equipment and military services, logistics support, intelligence support of the Armed forces and security forces of Ukraine. Also, the document allegedly includes the possibility of granting Ukraine lethal weapons for defense purposes, which was not in previous budgets of the United States.
Comments
comments