"If only you saw how long it took to slipping up this Wed*tion coach." The witness told details of the murder on Poznyaky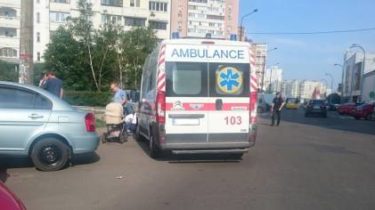 Witness the murder of men in the Metropolitan area Poznyaki, who wished not to be named, said that the killer did 3-4 shots at close range, the ambulance had to wait about 15 minutes.
The witness said that he left the Parking lot around 8:10 and heard a few shots, but at first did not attach importance to what happened.
"After driving 10 meters, unfortunately, was convinced of the opposite (3-4 shots at close range from the car, gave on gases and has disappeared, though, and hit the lens of the DVR oncoming car (doubt it will help). On the ground lay a man of about 50, and next the girl tries anything to help his friend," he says.
The man said that they called an ambulance and the police and tried to help the wounded. Wait for law enforcement officers, he said, had about 10 minutes.
"10 minutes, drove our valiant… Now to remove the testimony of several witnesses… One threw a first aid kit to the victim, but I got distracted, I did not understand if he had to do artificial respiration. Male from time to time showed signs of life. The ambulance arrived 15 minutes later, I think…" – says a witness.
He added that he decided to call an ambulance and private, in the hope that it will save time. The man announced the amount of funds and set an ultimatum: either you pay, or people will die. The witness agreed to the challenge, but in the end it was cancelled, because the ambulance came quickly.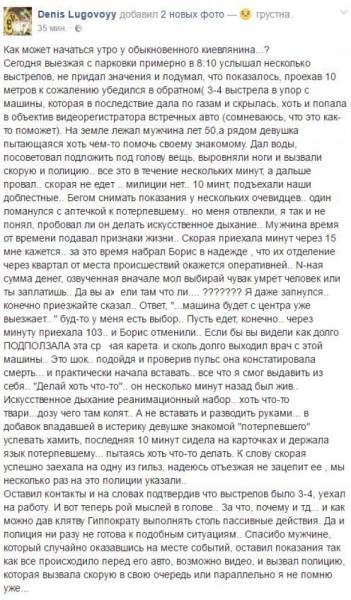 facebook.com/denis.lugovoyy
"If you'd seen how long this crawls MS*tion coach. And how long was the doctor out of this machine. It's a shock. Going and checking the pulse, she was pronounced dead and almost started to get up. All I could squeeze out: "Do something". It a few minutes ago was alive…", he added.
The witness said that the ambulance ran over one of the shell casings at the scene.
As previously reported, in Kiev on the morning of may 30, unknown persons shot and killed a man near the business center unknown man shot. According to preliminary data, from a shot in the back of the man died.
Comments
comments