"Pivdenmash" declares the groundlessness of the claims of the state Executive service for collection from the company of 40 million UAH of court fees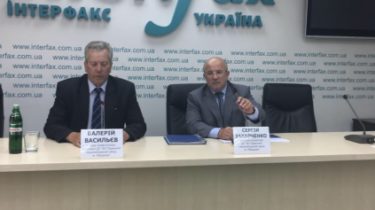 True
Kiev, may 31, 2017. State enterprise "southern machine-building plant them.Makarov" (Yuzhmash, str) filed a lawsuit in court demanding to recognize illegal collecting from the enterprise of UAH 40 million of court fees in favor of the Department of the public Executive service of the Ministry of justice.
About it to journalists in Kiev was declared by the Chairman of the trade Union "Yuzhmash" Valery Vasiliev.
According to him, the claim of the Department of Executive services to recover from "Yuzhmash" UAH 40 million associated with the Executive support of the lawsuit to the plant from DTEK for the recovery of "Yuzhmash" debt for electricity, which was repaid by the budget in 2016.
As stated by the Deputy Director of "Yuzhmash" Sergei Zakharchenko, the company believes the claims Department of the Executive service illegal because of the "Yuzhmash" entered in the register of objects of economic activities which are of strategic importance to the economy of Ukraine and are exempt from the obligation to pay court fees.
"Strong-willed decision of the government in 2016 in the framework of measures to support the space industry of Ukraine was amended to the state budget and allocated UAH 400 million to pay off the debt of the enterprise for electricity. This amount was received DTEK directly, bypassing the "Yuzhmash". We interpreted this step as the position of the state, which decided to support flagship space industry of Ukraine. Therefore seems illogical position of another government body – the Department of the public Executive service of the Ministry of justice who decided to charge us non written debt court fee, in the amount of 10% of the amount of claims DTEK to "Pivdenmash" – said Zaharchenko.
Chairman of the Union of "Yuzhmash" reported that in connection with the action of the Department of Executive services to recover the court fee for more than two months at the "Yuzhmash" arrested accounts. As a result of the arrest of all accounts of the enterprise has formed a two-month salary arrears and new debt for electricity.
"There are already decisions of the two courts that the arrest of accounts is illegal. And tomorrow is the last court. The enterprise has already written off 16 million UAH in favor of the Department of Executive service. We do not agree to pay 40 million UAH and filed in adatvedelmi claim," – said Vasilyev.
According to him, in order to achieve a decision on withdrawal of arrest of accounts of employees "Yuzhmash" picketed the Ministry of justice. The representative of the Department of Executive service of the proposed decision, who can not hold a collective enterprise.
"The opening of special accounts, on the proposal of the Department, is not a solution. We are required to act within the law – to enforce the judgment, and not to establish a special account to pay employees a small wage", – said Vladimir Vasiliev.
Comments
comments