The Pro-Kremlin President of Moldova complains of a sharp deterioration of relations with Russia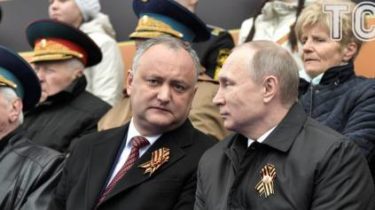 Moldovan President Igor Dodon considers that the country's relations with Russia "have never been on such a precipice now".
He stated to RIA Novosti.
"In 25 years of the establishment of diplomatic relations between Moldova (Republic of Moldova) and the Russian Federation never has our bilateral relations were on the brink as it is now. That's what leads to irresponsible decisions and actions of the Moldovan government and the parliamentary majority that make decisions not in the interests of his people, and on the basis of geopolitical interests, Western curators", – said Igor Dodon.
He added that in the next days to hold meetings at various levels with the Russian leadership.
Dodon said that "if the government will continue to escalate the tension in the Moldovan-Russian relations, provoke a break with our main strategic partner – the Russian Federation, our say we the people of the Republic of Moldova".
The President also expressed the hope that measures of an economic and social nature on the part of Russia in response to the expulsion of diplomats will not.
See also:
Revenge of Russia: from Moscow sent five Moldovan diplomats
Recall, said he plans to discuss the expulsion of Russian diplomats at the meeting of the Supreme security Council. He called the expulsion of Russian diplomats "provocation of the ruling Democratic party and their supervisors from the West". He noticed that over the last 25 years Chisinau "has not allowed himself to act so hostile against the Russian Federation".
In Moldova explained why the expelled Russian diplomats. Prime Minister of Moldova Pavel Filip said that the Russian diplomats were declared persona non grata on the basis of information received from intelligence agencies.
Comments
comments