Yanukovych and Azarov "no chance" bezviz – Ministry of foreign Affairs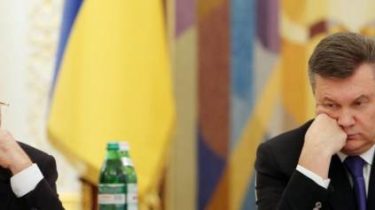 Deprived of the title of President of Ukraine Viktor Yanukovych and former Prime Minister of Ukraine Mykola Azarov, in hiding in Russia, will not be able to benefit from visa-free travel to the EU.
This was stated by the speaker of the Ministry of foreign Affairs Marian Betz, writes UNIAN.
"I think not. I think that those cities, where they are now, they are unlikely to venture somewhere to go," she said.
According to Betsy if Azarov and Yanukovych will arrive in Ukraine to issue biometric passports, "will be brought to justice".
In addition, the press Secretary of the foreign Ministry noted that many officials of times of Yanukovych denied entry into the European Union.
Recall that in early March the EU has extended sanctions against Yanukovych and his entourage – 15 former Ukrainian officials. However, one person was removed from the list. Earlier it was reported that we are talking about the ex-regional Iurie Ivanyushchenko.
Sanctions against Yanukovych and 14 high-ranking officials of his rule, Europeans had introduced in March 2014. Since all their assets were frozen. In the sanctions list of the EU, except for Viktor Yanukovych, remain: Vitaliy Zakharchenko, Viktor Pshonka, Olena Lukash, Andriy Klyuyev, Viktor Ratushnyak, Alexander Yanukovych, Pshonka, Artem, Sergei Klyuyev, Mykola Azarov, Serhiy Kurchenko, Dmytro Tabachnyk, Sergey Arbuzov, Alexander Klimenko and Eduard Stavytskyi.
Comments
comments