Nasirov said about the urgent need of treatment in the United States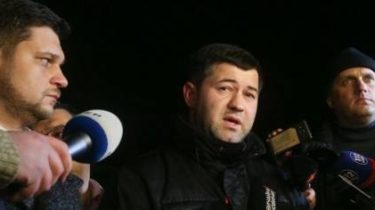 Suspended Chairman of the State fiscal service Roman Nasirov said that the question of treatment is very serious.
About this he wrote in Facebook.
"Another manifestation of this "children's" diseases of NABOO was the lie that I supposedly asked you to give me permission to travel to Poland. Officially asked to show my appeal, when and to whom I spoke. Or is it specifically designed to block the exit of the treatment in the United States? We are also talking about one week!", – outraged official.
Nasirov added that the NAB is a very necessary organ for the country, but there are "populists, conceited people, and sometimes outright villains with maniacal desire for self-promotion".
"Refusal to go on so I needed a course of treatment will remain on the conscience of the detectives who made this decision. But I promise to use all constitutional methods to defend their rights. We are talking not about the trip to the resort, and the issue is very serious", – he added.
See also:
NABU blocked the departure Nasirov free treatment in the United States. Exclusive to TSN
We will remind, the detectives NAB Nasirova refused to grant permission to travel outside Ukraine. This decision was taken may 30, according to the results of consideration of the petition of the suspect. The report said that this is the second message of the President of DFS. He first requested permission to attend the national team of Ukraine on judo in Warsaw in April. May 25, the NEB received a request for permission to travel to the United States, motivating a trip by the need "to treatment".
The Solomensky district court of Kiev made the decision to extend the measure Novel Nasirova for 2 months. Protection Nasirov, but, asked to soften the constraints and to give him permission to move freely and travel abroad.
Nasirov is suspected of abuse of office and embezzlement of public funds in the amount of over UAH 2 bn. The consequence considers that Nasirov, acting in the interests of the Deputy Onishchenko, under the "gas case" is groundless, provided the number of enterprises the possibility of tax liabilities in installments.
Comments
comments