Nasirov asked NABU to let him go to USA for treatment of papillary cancer media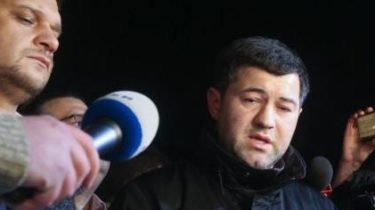 Removed from office of the head of the DFS Roman Nasirov asked the detectives NAB to give him the opportunity to fly to the US for treatment of papillary thyroid cancer. This is stated in the filed of anti-corruption Bureau petition, which is in the possession Цензор.net.
The document States that Nasirov asked the detective NABS Klimenko to suspend the criminal proceedings on which tiskalniku declared suspicious, and requested to allow him to travel for treatment in the period from 11 to 30 June 2017 in the United States, namely in the Department of clinical endocrinology National Institute of diabetes, digestive diseases, and kidney in Bethesda, Maryland.
See also:
In the NEB confirmed that Nasirova was denied exit for treatment in USA
Nasirov also asked to return his passport, to temporarily remove an electronic bracelet and to provide unobstructed exit from Ukraine.
To his petition, fiscalini added the conclusion it is judicial-medical examination concerning his state of health. The document stated that the doctors diagnosed him with coronary heart disease and cancer (papillary) thyroid.
For postoperative therapeutic treatment of cancer Nasirov and asks to allow him to travel abroad.
As previously reported, the head of the fiscal service Roman Nasirov asked detectives of the National anti-corruption Bureau to return his passport. He gave the result of documents that confirm the urgent need to travel abroad for treatment. NABOO refused to fiskalnych and blocked his exit.
This decision was taken may 30, according to the results of consideration of the petition of the suspect. The report said that this is the second appeal of the President of the SFS. He first requested permission to attend the national team of Ukraine on judo in Warsaw in April. May 25, the NEB received a request for permission to travel to the United States, motivating a trip by the need "to treatment".
The Solomensky district court of Kiev made the decision to extend the measure Novel Nasirova for 2 months. Protection Nasirov, in turn, asked to soften the constraints and to give him permission to move freely and travel abroad.
Nasirov is suspected of abuse of office and embezzlement of public funds in the amount of over UAH 2 bn. The consequence considers that Nasirov, acting in the interests of the Deputy Onishchenko, under the "gas case" is groundless, provided the number of enterprises the possibility of tax liabilities in installments.
Comments
comments