The city Council has expanded the list of capital institutions that do not pay taxes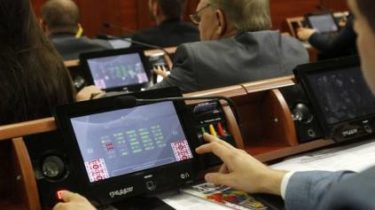 At the plenary session of the Kyiv city Council expanded the list of institutions that are exempt from taxation.
According to the report on the website of the city Council, the decision was supported by 82 MPs.
See also:
About 6 billion UAH of taxes will be directed on repair of Ukrainian roads.
"Today at the plenary session of the Kiev city Council deputies have made changes to the establishment of local taxes and fees in the city of Kiev", – stated in the message.
Most changes relate to state and municipal institutions related to children, as well as properties that belong to large families or foster families where there are five or more children.
This category includes non-residential real estate state and communal children's sanatorium-and-Spa institutions and institutions of rehabilitation and recreation for children.
The base of Olympic and Paralympic preparation, the list of which is approves by the Cabinet, is also not subject to taxation. Tax-exempt and Olympic training centers, which are non-profit and is included in the Register of nonprofit institutions and organizations, as well as centers for the development of physical culture and sports of disabled persons.
In addition, will not be taxable non-residential real estate state and municipal Olympic training centers, schools of the highest sports skill, the centers of physical health of population, children and youth sports schools.
We will remind, recently, the city Council banned outdoor advertising in the capital. The new rules provide for the separation of Kiev in the five zones – from zero in the center of the city where advertising is virtually banned.
Comments
comments