The member of a gang of kidnappers in the Kyiv region sentenced 2 months in custody or bail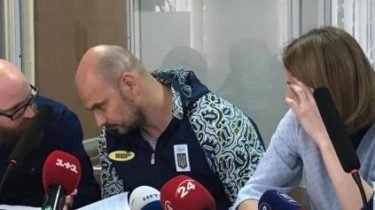 Pechersk district court chose a measure of restraint to one of the gang members in the Kyiv region Volodymyr Bova, who is suspected in the preparation of the kidnapping of a businessman.
About it from a hall of court the correspondent of TSN Valentine Mudryk.
In its decision, the court decided to apply the Bova detention for 2 months or a Deposit of 134 thousand. His lawyer said that the decision will appeal, defendant lucky in jail.
According to the defender Bova, the money for his bail will be looking for family and friends.
Another person – Denis Yaroslavsky, which I believe the main accused, has not yet made a decision. The judge announced a break and brought him out of the courtroom, as prosecutors something incorrectly formulated in his petition. After that, the hall brought the third detainee.
As previously reported, on June 1 in Kiev region detained a gang which tried to smuggle in Russia businessman for $ 17 million. A group of individuals, composed of the chief of regional Department of police, by order of the citizen of the Russian Federation tried to smuggle a man on Russian territory.
According to Prosecutor General Yury Lutsenko, the man who planned to kidnap, moved to Ukraine because of the persecution by the Russian authorities and worked here in the manufacturing business. His name was not called.
One of the members of the group was Vladimir Bova. He is charged with the preparation of illegal imprisonment and bribery of officials. According to unconfirmed reports, the businessman who tried to kidnap a gang – Vladimir Krupchak, the owner of the Obukhovsky cardboard plant.
Comments
comments