8 cars burned in Kyiv on a private Parking lot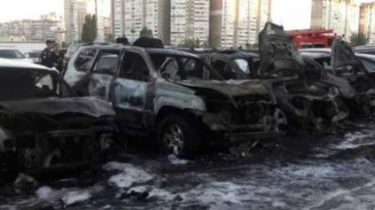 In Kiev at vul. Dankevich burned Parking, as a result, 3 cars were burnt, 5 were damaged.
Reports a press about it-service gschs.
"Today, June 3, at 03:50 in quickly-the coordination center of head Department gschs of Ukraine in Kiev was reported that on-site Parking private Parking on the street. Dankevich, 16/1, car fire occurred. To place the call immediately sent to rescue the 43-th and 13-th State fire and rescue parts. Having arrived to a call place, firefighters found that the fire occurred in the Mercedes ML 350 with a distribution of fire on nearby parked cars Toyota Prado, Nissan Note, VAZ -2114, Toyota RAV-4, Honda Civic, Mitsubishi Lancer and Toyota Corolla. Wasting no time, the rescuers immediately started to extinguish the fire, " – said the press service.
See also:
In Kiev, partially blocking the road on 5 June
At 04:45 firefighters liquidated ignition.
In gschs reported that as a result of a fire in a Mercedes ML 350, Toyota and Nissan Note Pradо burned down completely. In the car VAZ-2114 burned and damaged the engine compartment, windshield, interior and paintwork, the Toyota RAV-4 spare tire, rear bumper, two rear lights and paint, Honda Civic – front bumper, right headlight and paint , Mitsubishi Lancer – Luggage compartment, two wings, front bumper, two rear lights and the paintwork, the Toyota Corolla – the paint of the front bumper and left front headlight.
The cause of the fire now is established. No casualties were reported.
Comments
comments