The German foreign Minister expressed Putin demands Ukraine and the lifting of sanctions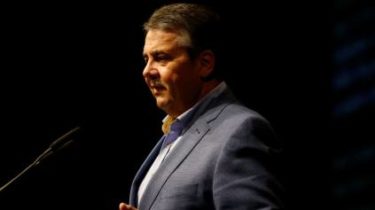 During a visit to St. Petersburg at the economic forum, foreign Minister of Germany, Sigmar Gabriel discussed with Russian President Vladimir Putin about the situation in the Donbas in Ukraine and annexed Crimea. Gabriel hopes that Putin will join the meeting in "Norman format" on Donbass at the level of heads of States.
"We have hopes that the Normandy format will continue at the highest level, up to heads of state and government," said Gabriel, quoted by Morgen Web.
The Minister told Putin that the West will lift Russian sanctions until the Kremlin fulfill the conditions of the Minsk arrangements from 2015.
The conversation between Gabriel and Putin were at dinner behind closed doors. They talked for over two hours, until half past one night. During the conversation was also attended by former Chancellor and Putin friend Gerhard Schroeder. Before dinner, Gabriel and Putin talked privately for 45 minutes.
With his counterpart, foreign Minister Sergey Lavrov, Gabriel is not met. Although the German side of the negotiations was announced.
Earlier it was reported that Russia is blocking meeting "Norman Quartet" at the presidential level relative to the Donbass.
Comments
comments