You need to stop lying that medicine in Ukraine – Suprun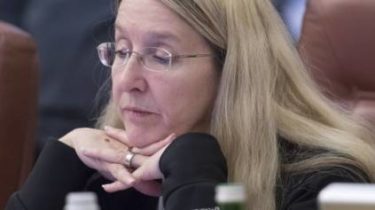 In Ukraine there is no free medicine, and you need to stop lying about the fact that it exists, said the Minister of health of Ukraine Ulyana Suprun.
According to her, the healthcare reform planned in Ukraine, provides state funding for emergency assistance and joint treatment, if the patient has the ability to pay for treatment.
"We say that in our country medicine is free, which it isn't, we all pay for everything… We now offer a system where each of us has a guaranteed primary care, emergency care and palliative care for free. Perhaps there will be such services that have to pay extra because the government does not have enough funds. If you can pay, then pay. If not, subventions, subsidies, already has a state program for fighters ATO, private insurance. We must stop lying and speak the truth. We should create a system where people don't have to sell cars and apartments and be financially ruined because they got sick," said Suprun at a briefing after the meeting of the National Council of reforms, says "112.ua".
See also:
Healthcare reform may lead to the closure of hospitals
As the price of medical services, according to the Minister, "now the bill provides that each year the Cabinet will determine what services will be provided and funding to pay for those services…".
Recall that the Ministry of health, March 15, presented the package of draft laws on medical reformei demanded their approval by the Verkhovna Rada until may 16. However, on 18 may, the Parliament does not have enough votes for inclusion in the agenda. June 1, the Deputy Chairman of the parliamentary faction of BPP Sergey Berezenko said that the working group completed consideration of government bills, has combined four of them into one, and are willing to recommend the Verkhovna Rada to support health care reform.
And the President of Ukraine Petro Poroshenko has urged the deputies to vote for health reform before the end of the session.
Comments
comments