Bellingcat has announced the release of two important new reports on the crash of flight MH17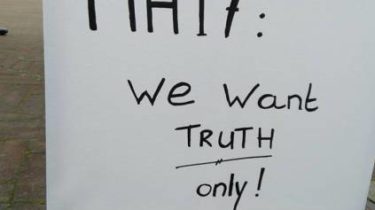 A group of international experts of investigative Bellingcat has announced the release of two new reports on smitty plane flight MH17 in the Donbas.
The first and shorter report would involve opening photos of the Russian "Beech", which was zrobleno the tragedy of flight MH17. This photo was distributed by a Russian mechanic, who was in the Kursk, probably in the spring of 2013.
"This photo and our analysis is its "missing link" in the definition of the location and visible detail of "Beech" in between winter 2012/13 and summer of 2014″, – stated in the message.
The second and much longer report will be released under the title "MH17 – the Drivers of the convoy of Russian "Beech" in June and July 2014." This study identifies the soldier-drivers who could transport the Buk to the Russian-Ukrainian border, after which it traveled to Eastern Ukraine where the plane was shot down flight MH17.
"In addition, we have detailed separate trucks and trailers, which took part in two key convoys from June to July 2014, which were placed near the border of Russia and Ukraine, providing additional details of the activities of the Russian 2nd automobile battalion of the 69th brigade logistics support (military unit 11385) and 147 th automobile battalion, logistics (military unit 83466)", – stated in the message Bellingcat.
Papers will be published in English and Russian languages on Monday, June 5, at 7: 30 am Kiev time, according to this and this links.
Comments
comments