Holodnitsky spoke about the "influence" of the FBI within SAP and NABOO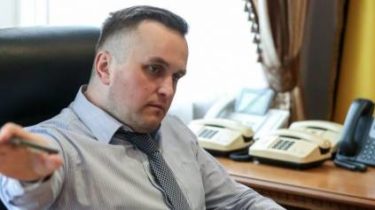 The Chairman of the specialized anti-corruption Prosecutor's office of Ukraine Nazar Golodnitsky in an interview to TSN said that a half years of work, the influence of the American FBI in SAP and NABOO seen.
"The impact of us intelligence, I for one and a half years working in SAP and NABOO seen. I see their desire to actually help those of our two institutions, just work and show," said Holodnitsky.
The head of SAP said that the FBI is helping the Ukrainian teams on the basis of bilateral interstate agreements, and this is accomplished without expenditure of funds from the Ukrainian budget.
See also:
Holodnitsky commented on the case of MPs Lozovoy and Dade, which want to deprive of mandates
"Representatives of the FBI do provide advice and expertise as NABOO, and SAP. Nothing in this in this. This is done according to the bilateral interstate agreements. This is done without spending a single penny of budget funds", – he stressed.
On the remark of the journalist that there is a statement allegedly controlled NABOO and initiates some business with the help of the American side, Golodnitsky, smiling, joked: "CIA Agents within the Ukrainian state?"
See also:
Fight fighters: Holodnitsky and Sytnik staged a polemic
In addition, he added: "We are always happy to receive any assistance that will help us to solve crimes. But the assertion that there we say whom to put whom not to plant is an absolute lie. Absolutely. I can confidently say".
We will remind, this year in February during his trip to the U.S. head of SAP Nazar Golodnitsky agreed to help the FBI and the U.S. justice Department in the investigation of several criminal cases.
Comments
comments