Holodnitsky commented on the case of MPs Lozovoy and Dade, which want to deprive of mandates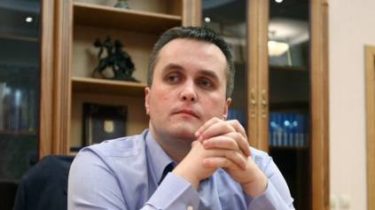 The head of the Special anti-corruption Prosecutor Nazar Golodnitsky in an interview with TSN told how progress of the investigation into the MPs Lozovoy and Dade, and why the presentation of them was returned from the Parliament back to SAP.
"Legally, there our position is unchanged. I said then and I say again: as of lunchtime Monday, matters, any claims to the prosecutors SAP for the shortcomings in these motions was not. They appeared suddenly. And that these representations we returned, I learned from television," said Holodnitsky, answering the question of why the petition was returned.
At the same time, to a reporter's question about why the Prosecutor General Yuri Lutsenko slowed down these motions and MP legumes upheld, Golodnitsky noted that he did not know.
"I can't comment, I don't know. Probably, it is the decision of the attorney General, but with some particular stylistic demands, as it to him to sign. We agreed. I thing that the picture has not collapsed, that is how we see the offense. But if stylistically change a comma, as you say, the synonyms supply – I'll do it. This is not a problem. I thing that it was legally carefully and correctly written," – said the head of SAP.
"Let's just say, if the application Dayday arrived on April 28 in the Prosecutor General's office, then returned it to us twenty… there is some numbers… a week ago. Quite a long time it lay there, and eliminated the flaws, I know. Procedural heads went, so to say, commas are put, so as of last Monday was confidence that no complaints. It was expressed that "no complaints, we submit to the Verkhovna Rada". I then went to Romania for two days on a business trip with a pure heart, roughly speaking. Next thing I know Romania on TV, that is, there are some gross errors have appeared," said the Holodnitsky.
He also added that he does not understand why the petition was returned. "I don't understand why it was returned. But was a desire to eliminate deficiencies – stylistic, legal there; and again sent forward," said Holodnitsky.
On the investigation of high-profile cases, who were dealt with NABU and SAP, is controlled whether to NAB the American FBI, etc. – see the full version of the interview with Nazar Holodnenkim.
Comments
comments