Man-the era. In Kiev, was buried the leader of the Ukrainian Greek Catholic Patriarch Lubomyr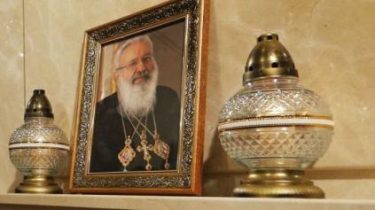 The Ukrainians said goodbye Lubomyr Husar. After a three-day ceremony of farewell Explorer of the Greek-Catholics were buried in the crypt of the Patriarchal Cathedral – the first stone of which was laid by the Husar.
This is stated in the plot of TSN.19:30.
People are saying goodbye only to his body. And his word is alive. So say all who the morning going to the yard of the Patriarchal Greek Catholic Cathedral in Kiev last time to see his Beatitude Lubomyr Husar. In the temple of the endless line. To carry out the cardinal's last journey are adults and small, famous and ordinary Ukrainians. And mostly in festive costumes.
In turn, each in its own way recalls Lubomyr Husar. Someone remember him only on television. Historian Volodymyr serhiychuk spoke with his Beatitude in person. Said, he was not simply the head of one of the denominations, and the Ukrainian people. Says the cardinal asked him to advise where the best place in Kiev for the Patriarchal Cathedral.
"I asked him what the best place is Batu mountain. This is a place that over Kiev and all the churches on the right Bank. I listened to the Patriarch and says, we go to the left Bank, on the sand, and standing on the left Bank, we have already mastered Eastern Ukraine. In this he showed his collegiality," recalls serhiychuk.
It is the Husar 15 years ago laid the first stone of the temple, which is now gathered more than 600 clergy from all over the world except Antarctica. Of all the missions. From different faiths. To honor the human era has arrived and the personal envoy of the Pope – he sends the words of Francis: "His words were simple, understandable for everyone, but at the same time very profound. His wisdom was the gospel".
During the farewell service of the temple filled to capacity. Who does not fit – listening to the sermon from the screen in the yard. It holds the Primate of the Greek Catholics of Ukraine Svyatoslav Shevchuk. Husar calls only in this way – "Our father Lubomir". Farewell completes words Husar: "I leave you the unity" as a great Testament.
The priests are carrying the coffin to the tomb of the Kiev Cathedral. Sealed and placed under the altar.
Anna Bock
Comments
comments