In Britain confirmed the presence Nasirov passport of this country – the media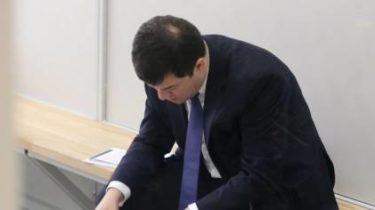 Home Office, the Department of the UK government responsible for immigration, confirmed Specialized anti-corruption Prosecutor's office information on British passports suspended Chairman of the State fiscal service of Ukraine Roman Nasirov.
About it with reference to the press service of the Prosecutor writes, "Word and Deed".
"SAP got the answer (regarding passports Nasirov), it is attached to the materials of the proceedings in court for recovery of collateral in state revenue," – said in the EPS.
As noted, as a response to the Home Office attached to the case materials, he is positive, that is, to confirm the presence Nasirov British passports.
We will remind, earlier the head of SAP Nazar Golodnitsky said in an interview with TSN that Nasirov denies the presence of his British passport.
"We have confirmation from the British side that he is a citizen of the UK. He says that the passport he won't. Therefore, not passed. Probably in Britain somewhere in the passport. But we have the passport there," he said.
Nasirov is suspected of abuse of office and embezzlement of public funds in the amount of over UAH 2 bn. The consequence considers that Nasirov, acting in the interests of the Deputy Onishchenko, the "gas business" were arbitrarily granted a number of enterprises the possibility of tax liabilities in installments.
The Solomensky district court of Kiev made the decision to extend the measure Novel Nasirova for 2 months. Protection Nasirov, however, asked to soften the constraints and to give him permission to move freely and travel abroad.
Removed the head of the SFS asked detectives of the National anti-corruption Bureau to return his passport. He gave the result of documents that confirm the urgent need to travel abroad for treatment. NABOO refused to fiscaliste and blocked his exit.
Comments
comments