ACE: in England, the father of five children became a star Network after a bad flip off a trampoline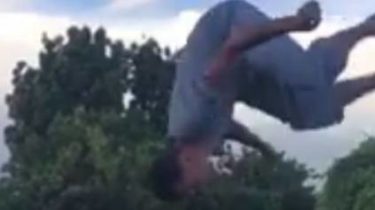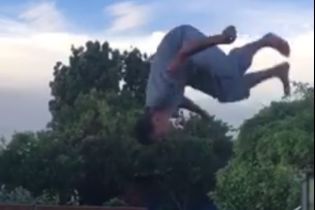 A resident of the English town of Sittingbourne Glenn Pennell jumped on the trampoline in his garden when he decided to perform a risky stunt. As a result, he flew over the neighbor's fence and landed on the greenhouse.
The man received minor injuries suffered by his ego, reports the Mirror.
See also:
Star stunt woman was struck by the incredible stunts on the red carpet
Glenn 39 years and has five children.
The incident occurred during a family barbecue. Glenn bragged to friends and children that are skillfully performs jumping on the trampoline. He attempted to perform one trick quite well, however, to land he managed not go as planned. He fell backwards and smashed his greenhouse neighbors.
"There were a lot of broken glass, and I totally broke the plants. Our neighbor did not swear, he was concerned for me," said Glenn.
Video of this event posted on his page in Facebook the wife of Glenn. It has already scored $ 4.7 million hits.
According to the man, he was a little ashamed that this video is watched by so many people. However, he thinks it's funny, so don't mind.
We will remind, in may, the British decided to risk the health and jumped on a trampoline with a thousand mousetraps. His friend filmed it on video in slow movie.
Comments
comments