Detective story with a happy ending: in Kiev after a week found the squirrel, who disappeared from the apartment on the sixth floor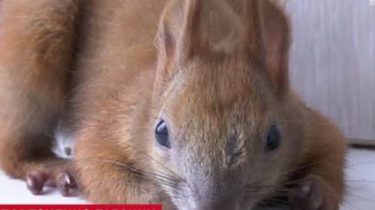 Ruohotie fugitive Bonia, whose been missing for a week in the capital through social networks, ads and even through the TV is finally found. The animal was in a beach bar in the capital Osokorki, says the story TSN.19:30.
Local workers made a lot of funny pictures that caught the eyes of those who searched for Boni. He, along with Sonia, a native of Vinnytsia region, the animals fell from the tree in early April. They were fed goat's milk Kiev family, but a week ago, toddlers disappeared – fell again, but from the balcony of the sixth floor. Shocked owners were able to find only Sonia. Journey Bonnie turned into a detective story. First noticed him at a nearby market, where he was stealing strawberries from sellers. Further Boni was put into a car and taken in an unknown direction. Vigilant saleswoman wrote down the car numbers, I contacted her owner who said that he had released the squirrel in the Park of partisan glory.
The hostess knew Boni for the tummy, tail, and mustache. The bar was also glad that the story of the squirrel eventually got a happy ending. This summer the traveler will spend in the Vinnytsia region, where he was already waiting for his human family and squirrel sister.
The TSN correspondent Natalia Nagornaya
Comments
comments