"Farewell, unwashed Russia," Poroshenko was quoted by Russian poets, speaking about bitwise with the EU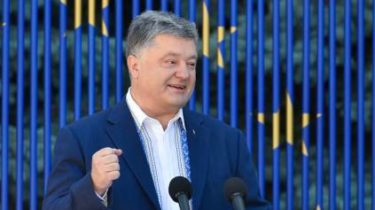 The President of Ukraine Petro Poroshenko during a speech at the European square in Kyiv on the occasion of the introduction of visa-free regime with the EU quoted the Russian poet Mikhail Lermontov.
"Farewell, unwashed Russia,
The country of slaves, the country gentlemen,
And you, blue uniforms,
And you, his faithful people."
Poroshenko noted that the visa-free regime between Ukraine and the EU marks the gap of our state with the "Russian Empire", and the Ukrainian democratic world – authoritarian "Russian world".
See also:
Once Ukraine and the EU will become a single family Mingarelli
The President of Ukraine appealed to the Russians that "in the conditions of rigid dictatorship find the courage to condemn the aggression against Ukraine and to demand democratic rights and freedoms", quoting another Russian poet Alexander Pushkin.
Comrade, believe: it will rise,
the captivating star of happiness.
Russia vspryanet from sleep.
And on the ruins of autocracy
write our names.
Comments
comments