Bikers picketed the court of appeal of the capital case on zastresenom on the road friend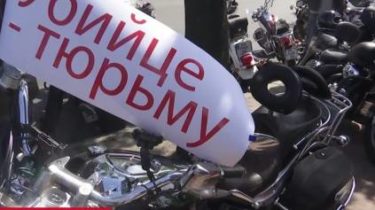 Dozens of motorcyclists rallied in Appellate court of Kiev, where they were to reconsider the measure of restraint to the Vice-champion of Ukraine in sumo Dmitry Slepchenko, who is accused of killing a biker Yuri Kalinichenko. The athlete is three weeks in jail, and lawyers need to release it under house arrest, according to a story TSN.19:30.
Bikers gathered at the court building with photos and posters. "We don't want a mad creature walked the streets of our city" – said Oleksandr Onishchenko about the man who shot the motorcyclist because of a misunderstanding on the road. The act Slepchenko explained that Kalinichenko seemingly humiliated him, damaged the mirror on the car and threw something into the cabin. "It's absurd. This is not what nonsense is in your head not nalazit simple," said the biker Andrei Molotkov.
Comments
comments