Passengers took video of sex couples right in the cabin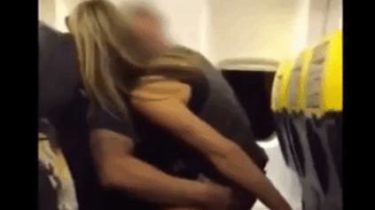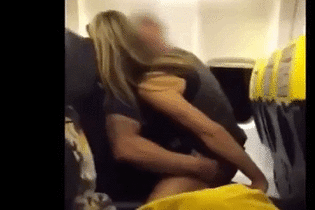 During a flight from Manchester to Ibiza couple has sex in front of passengers.
The incident occurred on Board the aircraft of the Irish airline Ryanair, reports The Sun.
See also:
In Britain, a couple has sex right in the middle of a children's play Park
One of the passengers filmed the whole thing on video. His heroes are Sean Edmondson and an unknown blonde. Before landing they were not even familiar with.
Describing this scene, their companion Kieran Williams, 21, from Preston, said: "I heard they talked about it, but I thought they were joking. The guy shouted: "someone is jelly (condom – ed.)?" We all laughed, but then ten minutes later they did. They seemed so drunk that they attracted a lot of attention to yourself."
"It was seen as a girl removed the shorts, and he pulled down his pants. She began to ride it. I had to take out your phone. I've never seen anything like it," added Williams.
According to him, the crew had not intervened for quite a long time: "About twenty minutes after it happened, someone complained about it. But the crew didn't do anything".
Shaun, Karen, Stephen and Craig Edmondson of @LythValleyInn Have a fantastic evening at #CLfood17! pic.twitter.com/z1b1IodYuD
Cumbria Life (@CumbriaLifeMag) 30 Mar 2017.
Edmondson (pictured left) works as a sous-chef in a posh restaurant Lyth Valley Country Inn in Kendal, Cumbria. The restaurant, by the way, belongs to his family.
The guy known as "womanizer", despite the fact that engaged to jenna Ross. Girl 25, she is a native of Canada. The couple have been together for 6 years. Friend Sean said that I would not like to be in his place when the bride finds out.
See also:
In the official publication "Railways" was published advice to passengers how to have sex on the train
According to friends, Jenna saw these frames and not in a rage.
The stepfather of Sean, Graham Oliver said, "I saw the video, but I haven't talked to Sean about it. I have no idea whether it has this problem."
THE ATTENTION, VIDEO CONTAINS SCENES OF A SEXUAL NATURE. 18+
After the footage went viral, Ryanair said: "We are considering this issue. We will not tolerate inappropriate behavior at any time, and any passengers who appear to be acting inappropriately can be held accountable".
Recall, a recent survey showed that every tenth passenger has sex in the airport before departure. At the same time, those who had sexual intercourse during the flight, much less.
Comments
comments