Russia violates the Geneva Convention, forcing residents of the occupied Crimea to go into the ranks of the Russian army UN –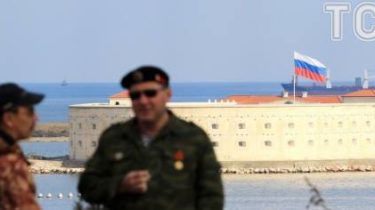 Forcing residents of the annexed Crimea for military service in the ranks of the Russian Federation, the Kremlin is violating the provisions of the Geneva Convention relative to the protection of civilian persons in time of war.
This is stated in the published on the website of the office of the UN high Commissioner for human rights (OHCHR) Report on the situation of human rights in Ukraine, covering the period from 16 February to 15 may 2017.
"On April 1 began the call-up campaign of 2017 in the Russian armed forces, which, in the case of the residents of Crimea, violates international ban to force them into military service in the armed forces of the occupying power", – the document says.
As observers found that military service is planned to call up to 2 400 men.
See also:
Human rights activists: Russian authorities in Crimea allow peaceful assemblies are only loyal to his citizens
"In 2014, the Crimeans, who were drafted, served in military units of the Russian Federation on the territory of the Crimean Peninsula. In 2017, for the first time send also in military units on the territory of the Russian Federation", – the report says.
The UN recalled that on 12 April, the military Commissioner of the Russian Federation in Crimea during a press conference announced the criminal case against the inhabitant of the Crimea, who refused to serve in the Russian army.
In turn, the OHCHR noted that, according to IV Geneva Convention (article 51), the occupying state has no right to force individuals in an occupied territory to serve in its armed or auxiliary forces.
Separately, the report draws attention to a significant decrease in the Crimea, the number of schools with Ukrainian language of teaching.
We will remind, on June 1, the Ministry of justice of Ukraine presented the chronology of Russia's takeover of Crimea to the international court of justice. Earlier, the Crimean officials told the truth about how Russia was preparing to seize the Crimea. Directly plans for the Crimea started to develop in 2008, when Russia submitted its bid for the Olympics in Sochi.
Comments
comments