The court forbade the city Council to sign a resolution to rename Prospekt Vatutina on Shukhevych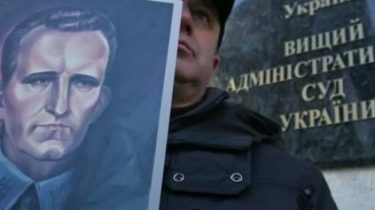 On 12 June the District administrative court of Kiev forbade the Council to sign and publish the decision on renaming of the Avenue Vatutina on Roman Shukhevych.
About this on his page in Facebook wrote Director of the Institute of legal policy and social protection Elena Berezhnaya.
She has published the result part of the judgment. It States that the city Council is prohibited to sign the name-change decision, pending its consideration of the case in fact.
Rename the Avenue Vatutina challenge public organization "anti-fascist human rights League" and "the Jewish human rights group." They require to recognize the actions of the city Council illegal.
Earlier, prospect General Vatutin was renamed the Avenue of Roman Shukhevych. The decision adopted by the Council on 1 June. At the meeting it was voted 69 deputies.
Shukhevych is one of the leaders of the organization of Ukrainian nationalists, the main commander of the Ukrainian insurgent army. Was killed in 1950 in a battle with the Soviet KGB.
Nikolay Vatutin, Soviet military commander during world war II commanded the troops of the Voronezh, southwestern, and 1st Ukrainian dandies. Died in 1944 from wounds received in a shootout with soldiers of the UPA.
Comments
comments