The meeting of fire and water: in a Network there was an incredible photo of a tornado, formed by hot lava in the ocean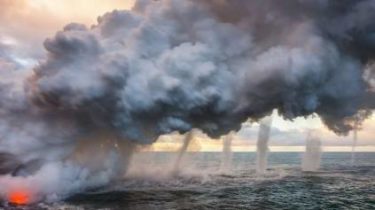 Hawaii hot lava which poured from the volcano, Kilauea forms a fantastic pair of vortices in the Pacific ocean.
In the photo – the meeting of fire and water, which managed to capture photographs Bruce Omori, writes Business Insider.
He said such tornadoes are very quickly formed and dissipated, so it is a challenge for a photographer to capture such beauty. When he saw steam tornado, then quickly pulled out the camera, changed lenses and made a few shots.
See also:
Deadly tornado attacked five U.S. States, has died
The photographer added that I've never seen such incredible beauty. Air rises from the heated lava of the ocean and the clouds of steam become visible.
We will remind that earlier in the US because of the powerful attack, a tornado killed five people.
Comments
comments