If we cancel the ATO, it will leave Ukraine defenseless – Poroshenko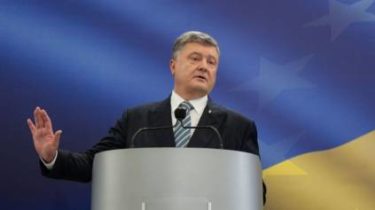 President Petro Poroshenko is convinced of the importance of providing the Ukrainian military with all the capabilities to counter Russian aggression.
About it informs the website of the President.
"If we abolish the ATO and at the same time do not give the military the right to act adequately in the face of aggression – leave Ukraine defenseless", – said Poroshenko, answering the question about possibility of cancellation of the ATO and the imposition of martial law.
The head of state said that he instructed to develop a bill on the reintegration of Donbass, which will include a number of measures for the return of the occupied territories of Ukraine.
The President stressed that the key position is the reintegration of these territories. According to him, in the preparation of the draft law with participation of experts, people's deputies. In addition, the bill is based on the terms enshrined in the Minsk agreements. At the same time Petro Poroshenko noted that, together with the preparation of the bill will continue political and diplomatic efforts that have already yielded results, for example, besus.
The President also stressed the need to continue policy of sanctions against the aggressor country.
Recall that the NSDC Secretary Oleksandr Turchynov believes that the ATO has fulfilled its function.
Ukraine requires a new format of protection from the hybrid war waged by Russia. In his opinion, declared in 2014 a counter-terrorist operation in the Lugansk and Donetsk regions should be completed.
Comments
comments