In Ukraine honored the memory of victims of the downed over Lugansk Il-76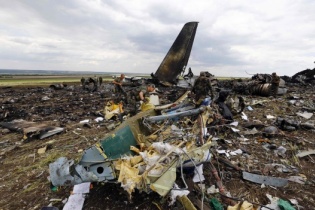 Today, June 14th, marks three years since one of the greatest tragedies during the war in the East when militants shot down a Il-76 aircraft carrying paratroopers to the Lugansk airport, according to a story TSN.16:45.
40 soldiers and 9 crew members died immediately. Most were from Dnipropetrovsk region – there is preparing mourning events.
In the garden of remembrance in the centre of the Dnieper river in 18 hours will begin the evening in memory of the dead Marines – a mourning rally and memorial service. In the morning the people bring flowers and candles. It is not only the relatives of the victims, but also colleagues, and ordinary citizens.
As you know, on the night of 14 June 2014, with the military plane was landing at the airport of Lugansk. The militants hit him from MANPADS "Igla". Be saved no one. As it became known after the tragedy, the leaders of the operation was considerable evidence about the ambush, but the military still gave the order to fly.
Comments
comments