Ukraine's accession to NATO to the Russian Federation – as the electric chair for a maniac – Turchynov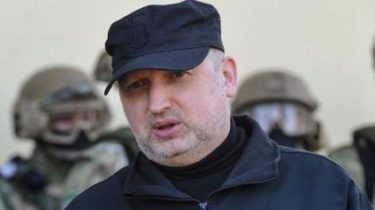 Secretary of the national security Council and defense of Ukraine Oleksandr Turchynov has compared Russia's reaction to Ukraine's accession to NATO with the "electric chair for the maniac."
In an interview to "Interfax-Ukraine", Turchynov said that Moscow will do its utmost to impede this process.
"This [Ukraine's accession to NATO] a complicated issue involving the interests of many countries, and of course, first and foremost, it will actively to oppose Russia. Remember her hysterical reaction to the NATO membership even in a small country like Montenegro. And Ukraine's accession to NATO to the Russian Federation, is the chair of a maniac," said Secretary of the RNBO.
See also:
Poroshenko took to raise military medicine to NATO standards
According to Turchynov, even when Ukraine will fulfill all the standards of NATO "ranging from weapons, communications, and ending with the organizational structure and control system" – not the fact that the members of the Alliance "to the applause of the" will vote for the adoption of Ukraine into NATO.
RNBO Secretary is convinced that the accession to NATO depends not only from Ukraine but also from allies-NATO members.
"On the one hand, we need resources and time to translate the whole sector of security and defense to NATO standards. On the other hand, Ukraine is a state which bears all the load of Russian aggression and among our allies a little willing to share with us this problem," he said.
See also:
Ukraine will be a member of NATO and the EU – Poroshenko
Turchynov is sure that with the growth of military-industrial potential of Ukraine and increase the professionalism and combat capability of the Ukrainian Armed forces themselves, the NATO countries will be interested in joining the Alliance.
"More and more NATO countries are interested in Ukraine to be able to protect them. I am convinced that our requests, and our position and our strength should be the main arguments when deciding on the accession of Ukraine to NATO", – concluded the Secretary of the RNBO.
See also:
Lavrov commented on Ukraine's course for NATO membership
We will remind, Rada determined the membership in NATO is the main priority of Ukraine. The decision adopted by the Verkhovna Rada. From now on, Ukraine will deepen its cooperation with NATO to membership in the Alliance.
According to MP from the faction "Batkivschyna" Borys Tarasyuk, in its decision, the Parliament returned the draft law, which was adopted on 9 June 2003.
NATO took note of the decision of the Verkhovna Rada of Ukraine, which declared NATO membership a top priority. While NATO recalled the firm support of sovereignty and territorial integrity of Ukraine within its internationally recognized borders and the right of Ukraine to decide its own future and foreign policy course free from outside interference.
Comments
comments