Poroshenko took to raise military medicine to NATO standards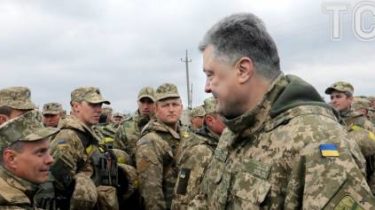 Ukraine in 2017 will purchase hundreds of four-wheel drive ambulances for the needs of Donbass. This was stated by President Petro Poroshenko, said in the story TSN.19:30.
He stressed that this, coupled with the existing 300 units of this equipment will improve medical care in the region. Now in the zone of the ATO, there are four military mobile hospital, and on the basis of 12 civil hospitals established reinforced medical group. The purpose, according to the President, is to bring domestic military medicine to NATO standards.
The President also stated that in case of cancellation of ATO Ukraine will be defenseless and will not be able to charge the military with adequate to counter aggression. However, Poroshenko instructed to develop a bill on the ways of the reintegration of Donbass, which provides for the return of the occupied lands of the Ukraine. "Most importantly, the aspirations of the Ukrainian people, and I, as the Ukrainian President is that Ukrainian lands came to the world to let Russian troops out of our sacred land and that Ukraine regained the occupied part of Donbas and annexed Crimea", – he stressed.
Comments
comments