At "Naftogaza" there are two plans concerning the transit of Russian gas through Ukraine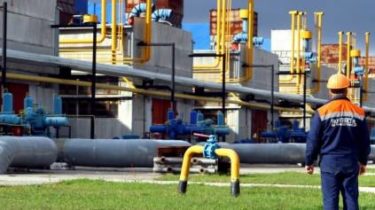 Russia stated that after the termination in 2019 of the contract with Ukraine is planning to minimize the volume of gas transit to Europe via Ukraine. This in turn would lead to the loss of profit "Naftogaz" and its subsidiary companies and the transmission system will simply be idle. Therefore, "Naftogaz" has two plan to get out of the situation and not remain in loss.
In an interview with "New time" said the chief commercial Director of the group "Naftogaz of Ukraine" Yuriy Vitrenko.
"Plan a" is to "Gazprom" had to pay for his decision to bypass Ukraine. And we're trying to implement this plan through a lawsuit (in the Stockholm arbitration) in the contract on transit. One of our demands – compensation of lost profits for failure by transit, and the second is the revision of the tariff. We want "Gazprom" has covered the additional costs associated with accelerated depreciation of the Ukrainian GTS before the end of the contract," – said Vitrenko.
Now Ukraine needs to provide "Gazprom" to transport a capacity of 110 billion cubic meters of gas.
"And then, from January 2020, the Russians have stated that they will cease to transport gas through Ukraine. So now we need to keep in working condition all these big tubes necessary to achieve this power, and then at one point they will no longer need. So, we have to amortize over the term they are in demand. Depreciation the GTS – a operator costs, they are accounted for in the transportation tariff. This is a standard European approach to formation of tariffs for gas transportation. Gazprom needs to cover them," – says Vitrenko.
In "Naftogaz" requires "Gazprom" compensation in the event of failure of gas transportation through the territory of Ukraine.
"Now we're talking "Gazprom": you do not want to use after 2019 – your right, but paying $ 16 billion. The new rates, including accelerated depreciation. Not willing to pay for accelerated depreciation – reserve power, and not 5-20 billion cubic meters, and a significant amount. And not for one year while you are "Nord stream-2″ to build, and 15 years. That's when Ukraine will be able to revise the tariff and will not be included accelerated depreciation" – said Vitrenko.
Another direction is to convince the Europeans that the transit of gas to bypass Ukraine is unprofitable, risky and dangerous for the environment.
"Plan B" is that we try to explain to Europeans that "Nord stream-2" – an unnecessary and dangerous project. It's politically motivated, it has a lot of risks for the Europeans – from the environment to geopolitics. In addition, we stress that Russia cannot be allowed to first break the European legislation, and then solve it to work as if nothing had happened through the "Nord stream-2". "Gazprom" the need now is to return in the framework of European legislation. Today they are abusing their monopoly position and earn a lot of unfair, not only by Ukraine, but also due to the countries members of the EU," – said Vitrenko.
We will remind that Russian "Gazprom" has increased gas transit to Europe via Ukraine until the highest indicators over the last five years.
"The volume of transit of Russian natural gas through gas transportation system of Ukraine in the first five months of 2017 increased by 22% compared to the same period in 2016 and 64% compared to the same period of 2015. This is a record volume of transit over the past five years, almost 9 billion cubic meters exceeds the average volume of transit in January-may in 2013-2016", says the operator of the gas transportation system "Ukrtransgaz".
In "Naftogaz of Ukraine" emphasizes that "without Ukrainian live stream, Russia can not guarantee the uninterrupted transportation of its own gas to Europe."
Whether Ukraine will buy gas from Russia in the near future, read on Dnia this link.
Videohas as a weapon: implications of the decision of the Stockholm arbitration in the case of "Naftogaz" against "Gazprom"
TSN. Week
4 Jun, 20:31
Facebook

1

VKontakte

Google+

Twitter
Videocables told as the victory of "Naftogaz" against "Gazprom" will affect the wallets of Ukrainians
TSN. Week
4 Jun, 20:32
Facebook

4

VKontakte

Google+

4

Twitter

1
Comments
comments